WECOLME TO MY POST
Hello, i would like to response to this post right here:
https://fictionalomniverse.forumotion.com/t1485-dragon-ball-debunk-thread
i recommend to check that one out first.  
I was going to just do a reply on it, but it extended to much, so i decide to make a whole post.
Clarifications


First i want to make clear that i have nothing againt's Beyonder, im only making this post because i don't agree with him in this regard.

Sorry for any grammar o spelling mistake, im a fast writer and sometimes i slip up with out notice it, also english is not my mother language i hope you understand.

With no further to do, let's begin  
My Response to "Dragon Ball Debunk Thread"
1) Powerscaling
First i would like to question your concept of Powerscaling because i think the problem originates from the usage of a flawed definition, which your entire post is base off.
Powerscaling is a method to determinate a character's power, speed, resistance, abilities etc. through comparing them to other characters.
The logic behind powerscaling is similar to the one of
transitive relation
in which if A > B and B > C, then A > C, the famous ABC logic, but it goes beyond that.
I think this definition is way better than the one you use on your post since it fixes a lot of the problems the other one causes, let me give you and example:
"the concept of "Linear" is being given and within this the character must BEAT said person not be EQUAL (ON-PAR) with said being as it invalids ABC logic and they must also do it as a One on One not a team or assist"
I don't know who told you this, but it is wrong. It simple terms, PS is just comparing a character's stats or abilites with another one who has shown to be
COMPARABLE
it is not necessary to character A to strictly beat or one shot character B to validate PS, since PS can be applied if said characters are on par or equal with each other, it does not invalidates PS at all.
In case of a Team effort, it really depends of the context of said battles or how they defeat said foe, lets fast forward to the Frieza Saga for an example:
Gohan, Krillin or Pikoro are not comparable to Final Form Frieza since he was shown to be superior to all them, dodging all of their attacks with a smile on his face.
Clearly this shows that the authors intention was to make clear that
Final Form Fireza>>>>>>>>>>Goha, Krillin and Pikoro combined.
It's worth to point out that frieza at this point is not using all of his power, he was holding back
That's when Goku was using Kaioken x20, before that he was using less of that.
We can confirm this even with the Daizenshuu 7 an Official Dragon Ball Guide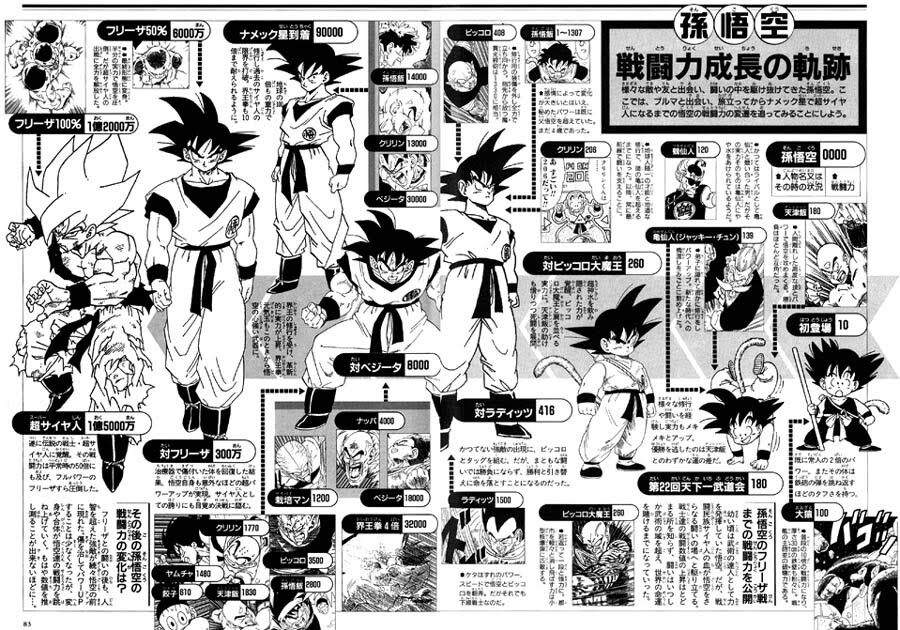 So what's my point with this? Well, to show how one character can scale to a bunch of them, to show how Powerscaling makes sense even with several characters, is not just 1v1 battles.
2) Goku VS Vegeta
Here is a long time fact rarely any real Dragon Ball fan will know....Goku has never in a 1 on 1 beaten Vegeta! Yes this is true!
With all that said, my previous argument already invalidates this one since you base off your argument on a flawed definition of PS, that says it needs to be 1v1.
Goku only overpowered Vegeta because Vegeta wasn't using all his power because if this is true Vegeta would only have enough power to destroy the planet core......
Vegeta Galick Ho was at full power because vegeta was furious and wanted Goku death, he had no reason to hold back, if he did so, why didn't he overpowered Goku Kaiokenx4 just by using the power he had left?
So yeah, its safe to conclude that:
Goku's Kaioken x3 = Vegetas Galick Ho
Why? because
"Every action has an equal and opposite reaction"
this means that to stop an planet busting attack you need and equal force to do it, its also shown to be equal.
Goku's Kiaoken x4 > Vegeta's Galick Ho
Why? because we see how he overpowers vegeta as soon as he uses kaioken x4.
Vegeta saids that Goku has surpassed his power.
And Goku shows it.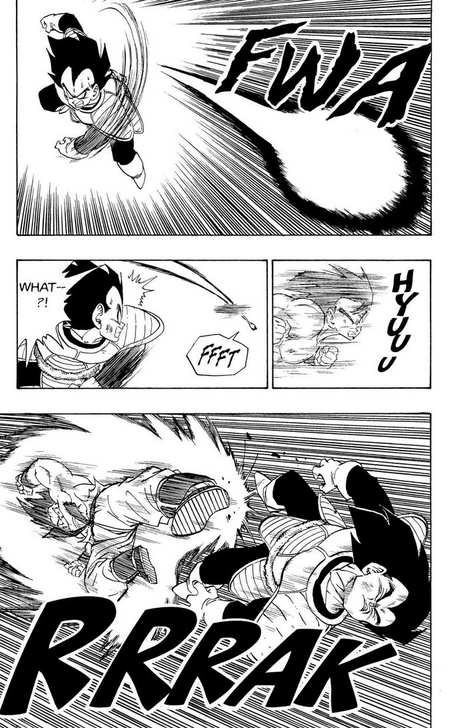 Lastly, the reason why Goku needed help to defeat Ozaru Vegeta, its simply because Vegeta increment his power by using said transformation, who's power was greater than a Goku Kaiokenx4. Goku was only shown to be superior to a Base Vegeta not a Ozaru Vegeta, obviously he needed help to defeat someone
10 times more powerful.

3)Goku VS Frieza
First, Goku didn't beat frieza because he realize it wasn't worth it anymore. Frieza gave all he had but it wasn't enough to defeat goku, he even started to lose his energy.
SSJ Goku was shown to be superior to Frieza, even when using 100% of his power.
He even tanked his attacks like nothing
So, its logical to guess that if the battle was to be extended, Goku would have killed Frieza, as that is the authors intend with this dialogue.
Other point i want to address is your argument of "planet core busting". Frieza didn't destroyed Namek with one attack because he held back and if he were caught in the explosion he would have lose energy, not his life just energy.
he also survived planet namek explosion.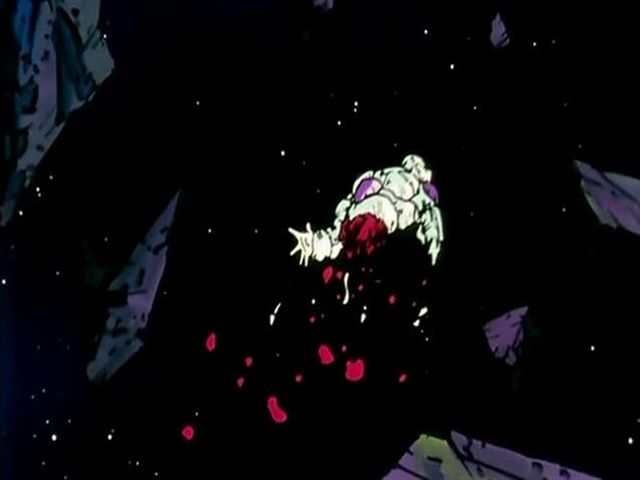 A Planet exploding in his face didn't killed him or damage him, but goku's punches can, its safe to conclude that Goku's Punches > Planet Explosion.
To destroy a planet you need to output an energy greater to their GBE (Gravitational Binding Energy) so the pieces can actually be turn apart or the planet will suck itself back in, so even it is core busting it wouldn't work unless the energy given is greater than the GBE of the planet.
But lets assume that is true and Core busting =/= Planet Busting, how is Frieza Supernova Attack core busting?
We see how the attack collides with planet vegeta surface, and how it seen on the surface but we don't see any penetration of the ball. As soon as it touches the surface the planet cracks and explodes, the ball can be still be seen while the planet cracks.
Even if it was core busting, remeber that Planet vegeta has 10x times the gravity of the earth, said by King Kai himself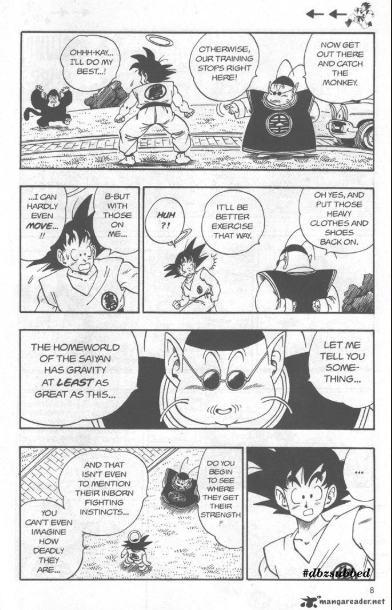 We know this is true because:


King Kai is very knowledgeable about the universe.

The whole point of the 10G training its to Goku be as strong as the saiyans by being in a planet like their home planet.

So destroying a planet with 10G would required more energy than to destroying a 1G planet, making planet vegeta more comparable to planets like Neptune or even Jupiter, since more gravity would make a planet densier and bigger. Even if it is Core Busting, it would make Frieza Attack Planet level to Planet+ level at minimun, but with all the evidence, it would make him Large Planet level.
And well, that scene is not canon anymore since the Broly the movie, which it happens in the same way.
Supernova hits the surface, Planet cracks and explodes, again, no penetration.
There is also this scene which you use as evidence of "Core Busting". Again, we don't see any penetration of the earth to the core, that lava doesn't mean core, lava exist thousands of kilometers before reaching the core and most lava we see on earth comes from the mantle.
Firstly before their big ole 5-minute fight Frieza was already fighting and wasting energy before and evidence is within the series itself....
That doesn't matter, he was shown to have plenty of energy left, and with his final form that energy was multiply and restore (if he had lose any)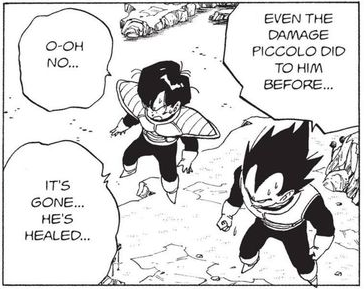 3)Goku VS Cell

Here is a Video of their FULL fight and even cell states with Goku aiming down at the earth would be capable of destroying the earth itself! aka CORE DESTRUCTION! this goes with the fact Frieza had to aim for the core as well to destroy a planet! proving that scaling is invalid since its already confirmed 3 beings need to aim at the core going into the 4th being capable of core busting as well.

I already disproved this, even if planet vegeta was core busting it would need to be planet level since it was a 10g planet, but you make an interesting argument.
How do you know he was just going to core bust? just because he is sky high doesn't mean he is aiming to the core, i already showed you how Ki attacks can just impact the surface and make the planet explode, cell doesn't said anything about aiming the core.
The video you provided its down, so it might be a translation error in the dub since the manga has none of it, even in other languages like the Mexican dub refered to it as "Earth Destruction" (The Mexican dub is way closer to the original manga)
now back to cell where Goku stated he couldn't beat cell himself and that it was Gohan.
He put on a good fight and he still scales to him becuase he was able to destroy part of his body, cell was still superior by a little bit.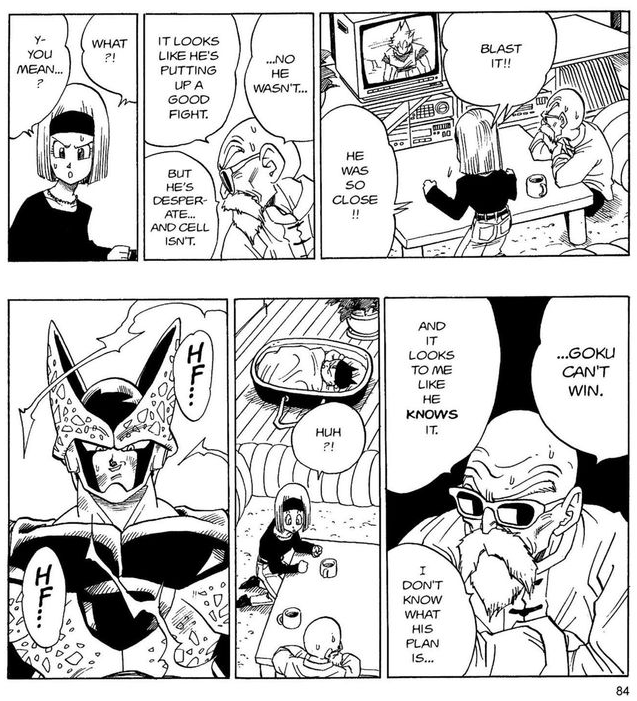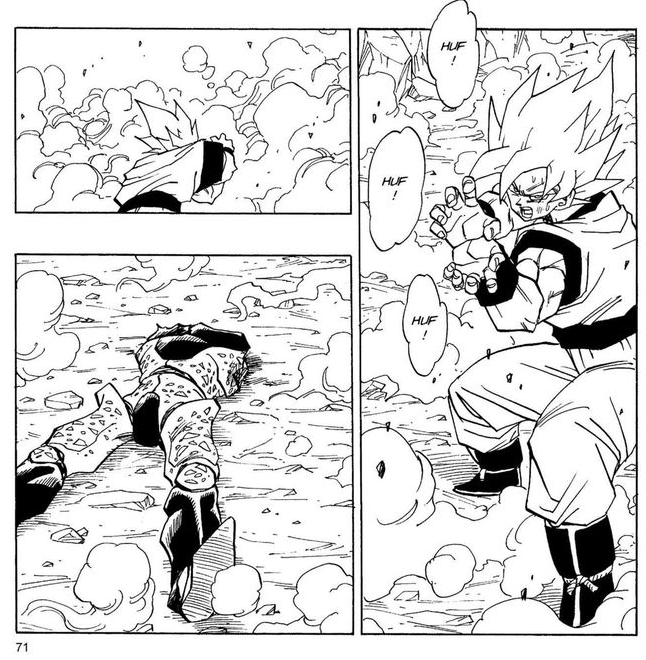 Now powerscaling logic by Dragon ball fans is they are all the same stats where if Frieza can survive a planet explosion then Goku can? but here in this video Cell "Earth" destroying attack kills an on-guard Goku.

How do you know he was on guard? because he was in SSJ? remember that his training to master Super Saiyan consist of him being in that form all the time lowering his KI at minimum. That is why he can get hurt by rocks becuase his KI is equal to that of a human.
He could be doing just that, he wanted to die anyways so gohan can be the savior of the earth. Looking at his expression he doesn't seem "serious".
Now even then Gohan was the one to beat cell but even then Gohan still wasn't on his father level and fans hate to admit this.
Based on what? maybe at SSJ1 but not in SSJ2, he clearly surpasses Goku at that form. Goku's plan was to gohan unleashed his hidden powers to defeat cell. You even said that Goku couldn't defeat Cell and Goku knew that, but he was sure that Gohan could.
It its shown that Gohan SSJ2 is indeed superior to Cell.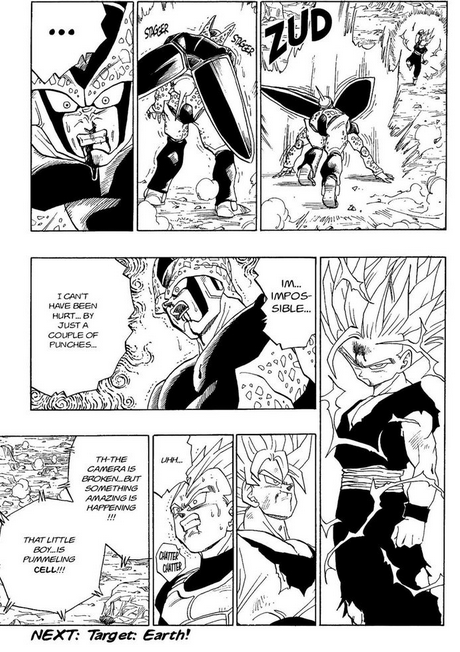 Cell, with horror on his face, affirms it.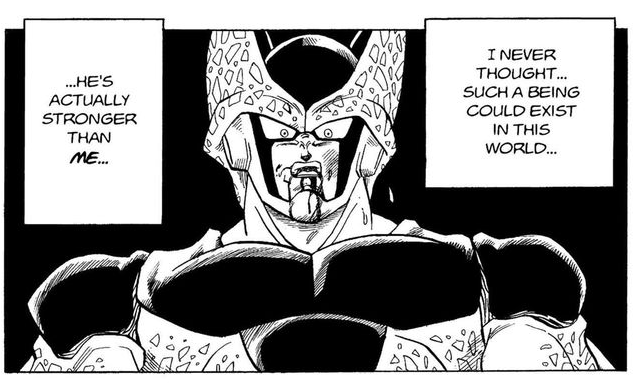 Cell was only able to be on par with him after his Zenkai Boost. He also had the advantage of gohan losing half his KI after saving vegeta.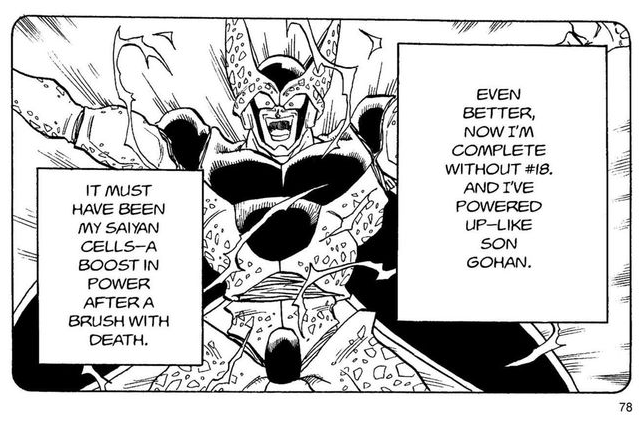 So, there is no evidence backing your claim up, quite the opposite, we can conclude that.
Gohan SSJ2 = SPCell >> PCell => Goku
4)Goku VS Kid Buu
Yes.....Goku is afraid of a Planet level attack that could destroy the same Planet 10x over....and admit him and Vegeta CAN'T stop it!
That's a translation error, he didn't said that on the original manga
where even here Goku never truly beaten Kid Buu! the first peace of that Goku wasn't stronger than kid Buu is when he begged Kid Buu not to destroy the planet.
First, he wasn't afraid of the fact that buu would destroy the earth but the attack itself because it well this was the thing that would have killed them.
Second, earlier vegeta was able to deflect a Planet Busting attack with ease.
Third, is not the explosion itself that kills them, its the lack of oxygen. This was said way back at the frieza saga.
This is mention again in super.
Goku needed MULTIPLE people and the dragon Balls and the people of earth to beat Kid Buu! He never once beat Kid Buu on his own!
He needed the Genkidama because he ran out of energy, he could have destroy Kid Buu by himself but his alive body couldn't handle SSJ3 power.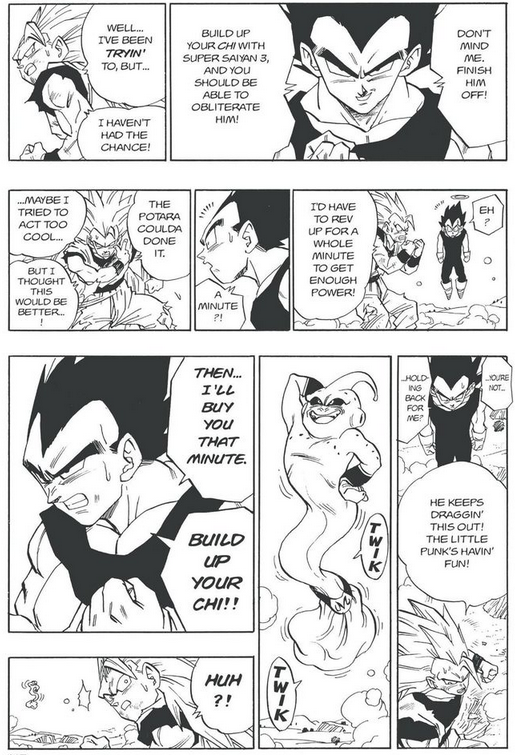 When he ran out of energy to maintian the SSJ3 vegeta suggest the Genkidama, but to be clear, the original plan was to Goku use a full powered SSJ3 Kamehameha to destroy Buu. Remember, that's why Vegeta started to fight buu.
5)Goku VS Beerus
Goku lost againt's Beerus in their fight, i agree on that but remember Powerscaling its about comparations, we can't compared a Full Powered Beerus to Goku but we can compared a Surpress Beerus to a SSJG Goku. As i have show, Powerscaling can be aplied even if the character doesn't beat the other as long as they demostrate to be on par.
Goku has shown to be equal to a surpress beerus.
I know you don't agree with shared feats but i don't see any logical reason no to do so, it actually makes sense to divied the feat by two since they it was their combine powers what put the entire universe at risk of destruction. Sure this would put Goku at Multi-Galaxy lvl+ but after his training with whis we would logicaly be stronger and universal by that time.
Even a "almost" off-guarded Goku still isn't capable of surviving a Planet explosion??
The potency of that attack is what made Goku and Vegeta scared, it only had the a destructive capacity of planet but a potency even greater.
Final Notes
Going back, don't you think that is a little weird how they can manage to get to planet level not matter how powerful the become?
In Dragon Ball they go from destroying buildings, to hills, to cities to mountains and islands. When DBZ started they got to moon level but they seem to be stuck on core level since then.
Don't you think it's logical to assume that after all their training after all their Zenkai's boosts they would manage to surppass core and actually destroy planets or even more?
Conclusions


The Definition of Powerscaling use in FBO is flawe because it very limiting and causes to many inconsistencies like a character being strictly obligated to beat someone to demostrate that their power is comparable to other character. Being limited to 1v1 battles. Not allowing on-par oir equal situtations.

The defintion provied by this post is more logic based and flexible, fixing the issues the previous definition has.

To make a good Powerscaling it is important for the powerscaler to pay atention to the context of the battles and how characters could scale to one and other, this is to not make any mistakes.

Statements can be used to determinate a characters power as long as this points are take into account, who is saying said statement? how knowledgeable it is? it what context is being said? can we trust it? is anything againt's it? and most importantly does it goes againts the authors intentions?

Powerscaling it's a valid method to determinate a characters true power as long as it's done correctly and it's not abuse.

End of my post
Well, that's the end of my post, i hope you enjoy it

JonCross

Forum Dweller





Age

: 22


Posts

: 4


Join Date

: 2020-03-30


Location

: Mexico



Im sorry but where are the debunks? im confused with the way you done it....

Beyonder

Founder





Age

: 23


Posts

: 5670


Join Date

: 2014-09-19


Location

: Beyond Realm



Im sorry but where are the debunks? im confused with the way you done it....

Beyonder

Founder





Age

: 23


Posts

: 5670


Join Date

: 2014-09-19


Location

: Beyond Realm



What do you mean? the debunks are right there, i even quote some of your statements.
What are the parts you don't understand?

JonCross

Forum Dweller





Age

: 22


Posts

: 4


Join Date

: 2020-03-30


Location

: Mexico




Beyonder

Founder





Age

: 23


Posts

: 5670


Join Date

: 2014-09-19


Location

: Beyond Realm



@Beyonder

wrote:

That's the issue....I can't tell my statements from yours.
Your statements are the ones with bold and ital font
like this
below them is my debunk.
I made it that way so it would be easier to understand, guess i was wrong
I talk about the concept of Powerscaling at the very beginning with an example.
I divided my post from Goku vs Vegeta to Goku vs Kid Buu just like in your original post, so that way you can follow it more easy

JonCross

Forum Dweller





Age

: 22


Posts

: 4


Join Date

: 2020-03-30


Location

: Mexico



Yeah I suggest the "Quoting" feature so that way people can tell my statements from yours.

Beyonder

Founder





Age

: 23


Posts

: 5670


Join Date

: 2014-09-19


Location

: Beyond Realm



@Beyonder

wrote:Yeah I suggest the "Quoting" feature so that way people can tell my statements from yours.
I see, sorry about that im not used to writing on forums or HTML.
Let me remade the post (i think it can't be edited) that way it will be more understandable since, i have to admit, it was kind of rush.

JonCross

Forum Dweller





Age

: 22


Posts

: 4


Join Date

: 2020-03-30


Location

: Mexico



@JonCross

wrote:

@Beyonder

wrote:Yeah I suggest the "Quoting" feature so that way people can tell my statements from yours.

I see, sorry about that im not used to writing on forums or HTML.

Let me remade the post (i think it can't be edited) that way it will be more understandable since, i have to admit, it was kind of rush.
No no I understand and thank you joining up here and posting.

Beyonder

Founder





Age

: 23


Posts

: 5670


Join Date

: 2014-09-19


Location

: Beyond Realm



---
Permissions in this forum:
You
cannot
reply to topics in this forum